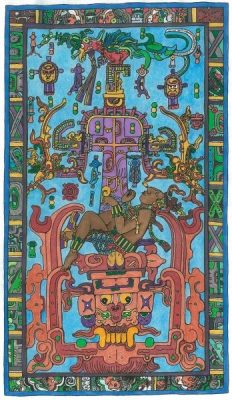 We have long and short sleeved shirts in 100% heavyweight white cotton, unisex sizes small through extra large.
It took me about 18 hours to color in the image (right) from a black and white template. This process was quite profound and induced deeply trancendent states. As some of you may know, the sarcophagus lid of Galactic Master, Pacal Votan, is a multi-dimensional time capsule. It contains embedded layers of rich meaning and codings, such as the "13 clear signs" that are designed to trigger and catalyze our awakening to our true Galactic Nature. I have had this image printed onto shirts so that it vibrates right into the solar plexus chakra.
Wear your shirt, knowing that it not only looks way cool, it also serves to support you in Self- remembrance through vibrational entrainment to the frequencies of this powerful image.